Original Article: CLICK HERE
Rusty Eye, music to the Mafia's ears
Written by Mafia Staff Writer Tessara
Rusty Eye is a musical mesh of metal, progressive and horror. Originally from Mexico City the trio now calls Hollywood their home. With many records and an amazing video behind them, there's no end in sight for their success. They recently worked with the iconic Claudio Simonetti, scorer of George Romero's Dawn of the Dead and several Dario Argento films…
I got to talk to Rusty Eye's extremely talented drummer/vocalist, Miss Randall, for a very informative Q&A….
Tessara: How was it to work with the great Claudio Simonetti?

Miss Randal: It was a great honor because we have always been huge fans of both, his prog band Goblin, and his work as a film composer. In fact, most of our wildest artistic ideas have been inspired by watching Argento's films and the scores created for them.

Tessara: Have you always been both a singer and drummer? Do you prefer one over the other?
Miss Randal: I started singing before drumming, but I had always wanted an instrument to go along with me. Even though I've improved in technique, I consider myself a naturally rhythmic person. Doing both at first was a challenge, but then it got easier. I enjoy doing both equally.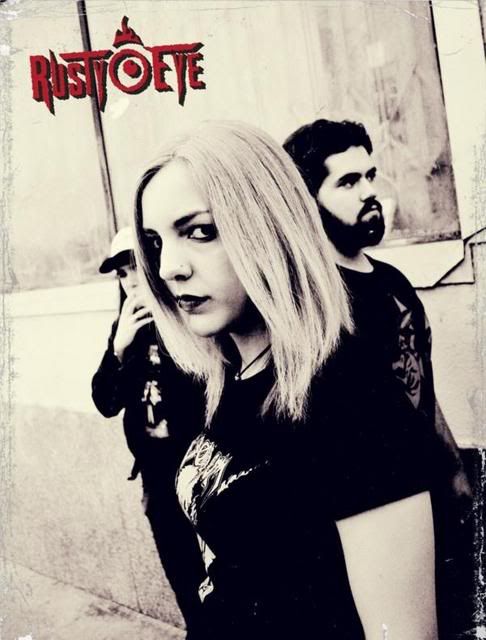 Tessara: Are the horror undertones something that was a conscious decision or did it just occur naturally?

Miss Randal: For us, horror movies are as influential as records. It all occurs naturally and it all becomes one when we write songs and lyrics. While some use horror stuff as a gimmick, to us it's more our lifestyle.
Tessara: What are your favorite horror films?
Miss Randal: Buio Omega, Phenomena, House by the Cemetery, Suspiria, Pieces, House in the Edge of the Park, Macabre, Hellraiser, Re-Animator, all Friday the 13ths… The list goes on.
Tessara: What are the top 5 influences in the band's music?

Miss Randal: Iron Maiden, Motorhead, Metallica, Rush, and Goblin.
Tessara: Did starting Mexico City give you guys a different aspect of music? What was the Mexico music scene like?
Miss Randal: In a way it made us stronger, we are proud of what we have achieved independently here because down there you learn about the struggle it is to be in a band with no resources available (no Guitar Centers, no gear rentals because they are only for "signed bands", no studios, etc.). At the time we moved to LA, there was no real independent metal scene in Mexico that would support an act like us (until recently there are a few new Indie labels) besides, we sing in English and that is a big no-no to the Mexican music industry.
Tessara: What's it like to be a female drummer in a male dominated genre?
Miss Randal: It is not easy to be taken seriously to be honest. Many females in other bands will speak the contrary, but most are either fronting their bands or just "token" members who don't really excel in their instruments (degrading the role of female musicians). I am here to set an example yes, but it's not a question about fighting for Feminism, there are bigger problems such as the music industry not supporting original artists and developing their music careers.
Tessara: If you could tour with any band, which would it be?
Miss Randal: Iron Maiden or Metallica.

Tessara: What inspired you to become a musician?
Miss Randal: I've always wanted to be performing on stage. I think it's the most beautiful feeling to express your ideas live and recording them, so they last longer than your existence: a legacy of yourself. I love to connect with the audience, let them feel what I feel. It's electric!
Tessara: Could you tell me about the "Mr. Cannibal" video shoot?
Miss Randal: After playing in support for Katatonia and Moonspell in the late 2006, we were approached by a film director Alejandro Ordonez who, both intrigued by our horror and metal influence, wanted to shoot and produce a video for us. So we shot the video the next year's summer in a cool warehouse in Glendale with his professional crew of people, and the fact that it was shot on 16 MM totally worked with the song.

We plan on collaborating in future projects with him.
You can check out Rusty Eye and their great music at the following locations on the intarweb!